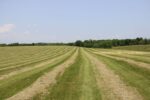 N

O LIMIT—NO RESERVE—EVERYTHING SELLS!
OUTSTANDING LAND BUYING OPPORTUNITY
SOLD $589,650.16
"HILDA M. HARNED ESTATE"
42.52 AC  – 6 TRACTS – 42.52AC
HIGH PERCENTAGE CROPLAND
MINI-FARMSTEADS—CO WATER
 ABSOLUTE AUCTION
THURS., JULY 27  2:37PM EDST
CLICK ON MAP TWICE TO SEE LARGER IMAGE.
https://vimeo.com/841560345/5db125cc2e
LOCATION: Larue County, KY – Hodgenville Community – From Lincoln Square take KY Hwy 210 approx. 0.5 miles north to Salem Lake Rd—Intersection (KY Hwy 2217) – turn right (northeast) onto Salem Lake Road (KY Hwy 2217) – and go approx. 0.9 miles northeast to the property. Signs Posted! Note: Sale will be held at The Nest Venue , 195 Lee Oak Drive Hodgenville, KY 42748(Right off Lincoln Parkway) signs posted.
REASON FOR SALE: Mrs. Donna Neese, executor of the Will of Hilda M. Harned has commissioned Harned Auctioneers to sell the following described property at Absolute Auction.
REAL ESTATE:  Selling one of the most productive small farms ever to be sold over the auction block in central KY history! This farm is located only 8.16 miles east of the I-65 Glendale intersection (near the soon to be largest car battery manufacturing plant in the world), only 10.8 mile southeast of Elizabethtown, and only 0.9 miles northeast of Hodgenville. County water is along all road frontage and electricity is there as well. Land contains 42.52 acres in all. (New survey underway) of which approx. 35.82 ac is cropland, and approx. 6.7 ac woodland. Some perimeter fencing throughout the farm. Cropland consists of top quality Crider silt loam, Nolin silt loam, Cumberland silt loam, and Elk silt loam soils – ideal for harvesting high quality forage every year. Farm has app 1060' Road frontage on KY 2217(Salem Lake Rd). Farm will sell in 6 tracts ranging in size from 5 to 10 ac each.
The Tracts: Tract #1 – 5.7 acres 237' road frontage (RF) on KY 2217.  4.759 Acres cropland, one ac woodland. Pretty Farmstead Area. Tract #2 – 5.02 acres – 208' RF on KY 2217, 4.42 ac cropland – 0.2 ac woodland. Balance in grass. Tract # 3 – 5.7 acres – 208' RF on KY 2217.   5.12 ac cropland – 0.68 ac woodland. Balance in grass. Tract #4 – 5.0 acres – 236' RF on KY 2217 – all cropland, mostly in Grass. Tract #5 – 10.3 acres – 76' RF on KY 2217.  10 ac cropland – 0.364 ac scattered woodland. Tract #6 – 10.8 acres – 104' RF on KY 2217.  5.6 ac cropland – 4.5 ac woodland. Balance in grass. TERMS: Real Estate – 20% down day of sale (in form of cash, cashiers check, or personal check with current irrevocable bank letter of credit addressed to Harned Auctioneers, LLC) –Balance on or before 30 days with delivery of deed. A 10% buyer's premium will be added to all winning bids. TAXES: Prorated to date of deed. POSSESSION: w/deed OWNERS: Hilda M. Harned Estate, Mrs Donna Neese, executor.
NOTE: SALE WILL BE HELD AT THE NEST VENUE @ 195 LEE OAK DR. HODGENVILLE, KY—
INSPECTIONS: SUNDAYS, JULY 16TH AND JULY 23RD  1-3PM EDST           AUCTIONEERS WILL BE ON THE PREMISES.